Eyewa's Ambassadors Tell Us What's in Their Makeup Bag!
Your inspiration and guide for makeup packing.
Lady Mony:
IG: lady_mony_ana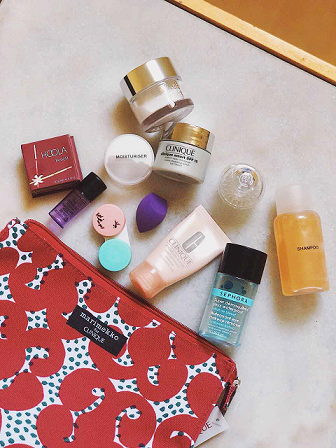 Saudi Blogger and YouTuber, Amani, is particular with her beauty regimen, and only uses the best products to make sure she is always glowing. So you shouldn't be surprised to hear that even when she travels, she takes her top picks with her. She emphasizes that when she's on-the-go, she likes to "travel light and with the essentials only".
What's in her travel bag?
Face moisturizers, makeup remover, hair products, bronzer and her favorite contact lenses from eyewa- which are from the Bella Elite collection, color: Amber Grey.
Raghad
IG: roro_beautytips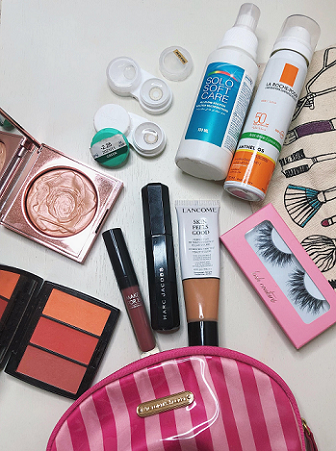 If you're ever looking for useful and exciting beauty tips, Raghad is always giving her followers her favorite products and tips to live by!When she's on vacation, no matter where she goes, there are a few staple products she truly believes in, and can always be found in her striped pink makeup bag!
What's in her travel bag?
Blush, mascara, lip stick, skin moisturizing tint, and most importantly, to complement her lashes, are contact lenses from new Bella Elite collection- Mint Grey. This color looks super natural on dark eyes and can be worn casually during the day, or more glamorously at night!
Ghada
IG: ghada.abdullah09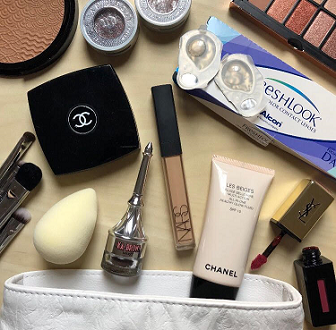 Saudi lifestyle blogger, Ghada, is always on the lookout for the trendiest and best skin care and beauty products. She is super active on her Instagram account, always giving her followers her latest product finds!Whenever she is getting ready for any trip, her cosmetic/ makeup bag is one of the first things on her list that cannot be forgotten.
What's in her travel bag?
Eyeshadow palette, bronzer, blush, brushes, beauty blender, concealer, lipstick and her go-to contact lenses from FreshLook. Her favorite color is Pure Hazel- as it always gives her a beautiful bold and unique look!