Description
Details
Shipping
Dailies AquaComfort Plus - Pack of 30 Daily Disposable Contact Lenses

Dailies AquaComfort Plus are daily disposable contact lenses from Alcon, designed for people who wish to wear lenses that can keep up with their hectic lifestyles.

Created with all-day comfort in mind, CIBA Vision Dailies AquaComfort contact lenses are designed with ultra-thin edges, making them a safe and healthy option for children and first-time contacts wearers.
With their blink-activated moisture technology, the hydrating agents are gradually released with each blink to keep the lens moist and your eyes super fresh.

Experience the refreshing feeling of wearing a new pair of lenses every day, with these one-day use contact lenses.
Supplied in a pack of 30 and 90 lenses.

Product Specifications:

Manufacturer: Alcon
Brand: Dailies
Type of Lens: Corrective contact lenses
Lens Material: Nelfilcon A
Technologies: Lightstream Technology & Blink‑activated moisture technology
Water Content: 69%
Base Curve: 8.7 mm
Lens Diameter: 14.0 mm
Oxygen permeability: 26 Dk/t
UVA/UVB protection: No
Replacement Schedule: Daily

*More information about Dailies Aquacomfort Plus
Dailies Aquacomfort plus are high quality lenses from Alcon. Blink activated technology keeps your eyes from drying out for up to 12 hours a day, even in air conditioned or heated environments. When coupled with the ultra-thin design of each lens, it's this technology that makes Aquacomfort plus so comfortable and easy to wear.
Alcon uses their unique Lightstream technology to put together each lens, so you can be sure of a consistent performance with everyone. This means you can throw away your old lenses every night and look forward to clear and fresh vision every morning.

DAILIES® is a brand of contact lenses designed with advanced technologies, to provide exceptional vision and comfort. It's part of Alcon, the global leader in eye care, with complementary businesses in Surgical and Vision Care. Dailies offers two brands of contact lenses; DAILIES TOTAL1® contact lenses—the first and only water gradient contact lenses providing exceptional comfort, and DAILIES® AquaComfort Plus® contact lenses—the daily disposable contact lenses ideal for young, first-time wearers.

Eyewa offers big savings on Dailies AquaComfort Plus - Pack of 30/90 Daily Disposable Contact Lenses, while providing the lowest prices available on the market. This product is placed under the following category: Contact Lenses. Eyewa provides free shipping on this product to countries including the United Arab Emirates, Saudi Arabia, and Kuwait. We accept cash on delivery and online payment methods in SAR, AED, and KWD currencies.
Our customer service team is available to help 24 hours a day, 7 days a week. Call us on +971 4 247 2979.
Dailies
AquaComfort Plus - Pack of 30
Delivered in 7-9 business days
0.7 KWD cashback is waiting for you!
Join now

Free shipping for orders of KWD 50 or above. For orders below KWD 50, delivery charge is KWD 5.
Keep your vision healthy with regular eye exams, book your free eye exam online!
Leave Your Review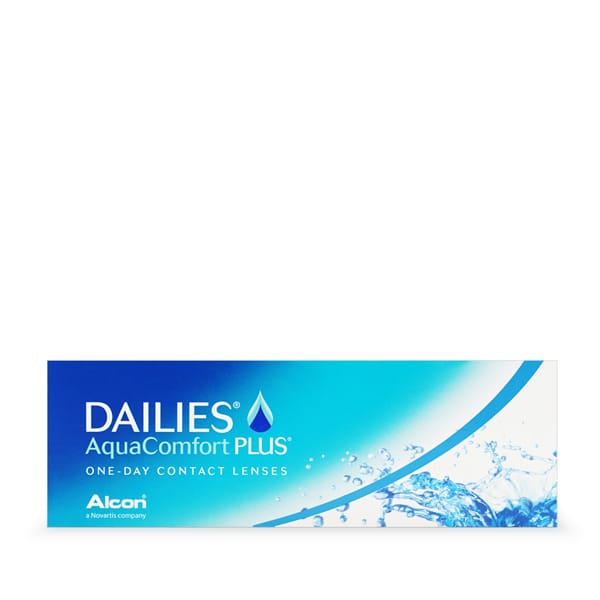 DAILIES AQUACOMFORT PLUS - PACK OF 30