Description
Details
Shipping
Some things should never have gone out of style. And when they do, then we just bring them back. That's the simple philosophy behind Sunny Cords, the brand that brought the sunglass chain trend back, and it's here to stay. Sunny Cords was established in 2016 by Dutch entrepreneur Florine Kemp with a mission to marry two seemingly disparate qualities: fashion and function. The goal was to bring back the accessory trend from the eighties that helps protect your sunglasses and keep them with you wherever you go, but to make it fashionable and fun. Shocked by the fact that the always-sunglass-sporting Australians didn't already have this useful yet chic accessory, she decided to launch her idea there shortly after moving. The Dutch-Australian brand blends Amsterdam's trendy on-the-go city style with Australia's laid back chill vibes to create the perfect partner to your favorite sunnies. With inspiration and materials gathered from around the globe, each handcrafted cord is made with great attention to detail, bringing you unique pieces with a variety of chains, beads, and gems that suit any occasion. The materials, beads, charms, and cords come from Amsterdam while a selection of materials come out of Bali. The collections vary in style – from simple leather unisex straps and golden snake chains to cords matched with coloured beads, crystals, charms, and bohemian feathers. Ultimately one purpose unites each piece, and that is to ensure a stylish and easy way to elevate any outfit. Each sunny cord is created so it can be layered and mixed to create a high fashion feel with minimal effort, making it easy to create aesthetically sophisticated and refreshing looks that can be combined with any outfit of your choice and on any occasion – night or day, day or night. Each piece is designed to be durable with a protective coating that is resistant to tarnish so that it never loses its color, with high-quality rubbers with extra elastic strength that don't break easily, making the functional chic. With the onset of the pandemic, Sunny Cords have adapted their now established sunglasses cords into chains for face masks as well, with an extensive collection of chains adapted with clips that can then be attached to masks for effortless wearability. Who doesn't want to style up their mask game? Until recently, the founder of Sunny Cords would handcraft each piece she designed herself so each piece was handmade with love; however, since the brand has grown exponentially in recent years, she's then expanded not only the creation but also the distribution of Sunny Cords across the globe. Starting out in Australia and now taking on the world, you can get your hands on this trend bringing the 80s back through eyewa.com.
Sunny Cords
SUNNY YOU Chain
Delivered in 7-9 business days
1.2 KWD cashback is waiting for you!
Join now

Free shipping for orders of KWD 50 or above. For orders below KWD 50, delivery charge is KWD 5.
Leave Your Review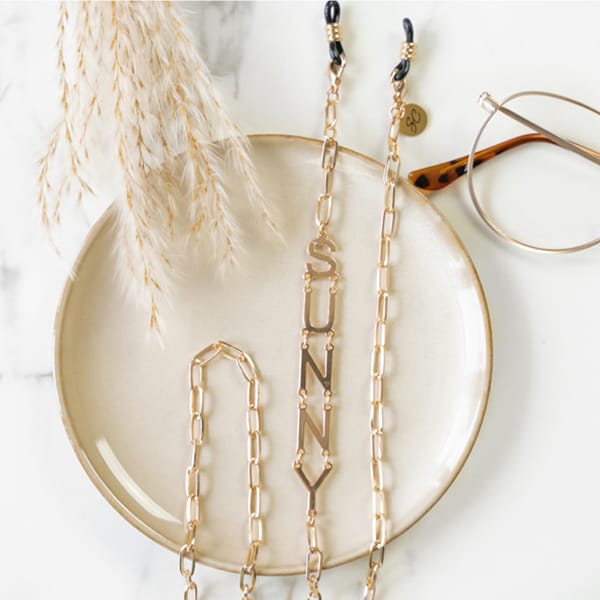 SUNNY CORDS SUNNY YOU CHAIN