Description
Details
Shipping
Everva Pro Contact Lenses are great value, high-quality Silicone Hydrogel lenses with monthly replacement. They are made from the latest generation of premium material to maximize comfort and keep your eyes healthy.
Their high water content ensures your eyes will feel fresh and irritation-free for the duration of wear. Everva Pro lenses can be comfortably worn for over 10 hours each day.

Everva Pro lenses have UV-blocking protection, making them the perfect choice for an active lifestyle. Don't compromise on your comfort or eye health! Everva Pro brings together the best of optical technology at an affordable price, making it the ideal choice for every contact lens wearer. These lenses can be worn daily with proper hygiene and care and should be replaced every month.
Product Specifications:

Brand: Everva

Type of Lens: Corrective contact lenses

Lens Material:Fanfilcon A

Base Curve: 8.4 mm

Water Content: 55%

Diameter: 14.2 mm

Center Thickness: 0.08 mm

Replacement: Monthly

""UVA/UVB"" protection: Yes

Oxygen Permeability:110 Dk/t

Additional Information:
Read more about our Everva PRO Monthly Lenses here.

Everva is a great value, high-quality brand of contact lenses from eyewa. It is designed with utmost breathability and moisture to provide exceptional comfort, especially for first-time wearers.

Eyewa offers big savings on Everva PRO Monthly Lenses, while providing the lowest prices available on the market. This product is placed under the following category: Contact Lenses. Eyewa provides free shipping on this product to countries including the United Arab Emirates, Saudi Arabia, and Kuwait. We accept cash on delivery and online payment methods in SAR, AED, and KWD currencies.
Everva
PRO Monthly Lenses - Pack of 6
Delivered in 7-9 business days
13.9 QAR cashback is waiting for you!
Join now

Free shipping on orders of QAR 500 or above. For orders below QAR 500, delivery charge is QAR 49.
Leave Your Review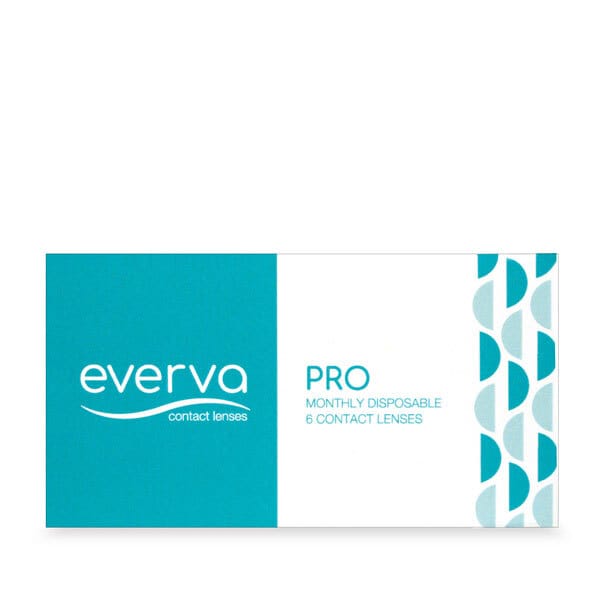 EVERVA PRO MONTHLY LENSES - PACK OF 6