fast shipping!
30 days exchange and returns
94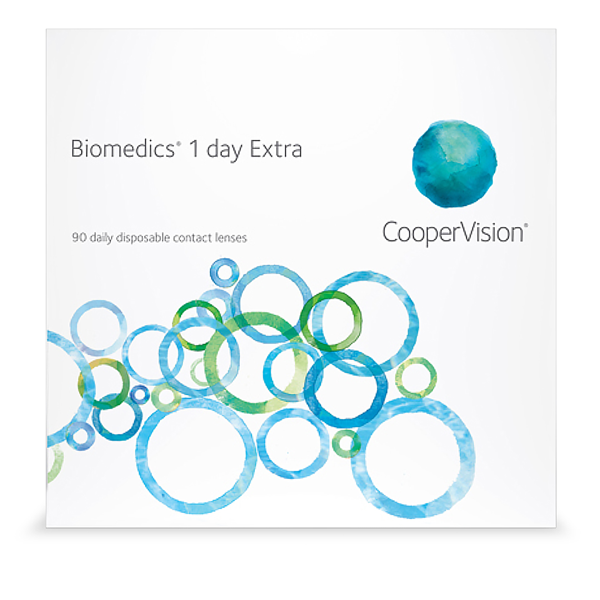 Biomedics 1 Day Extra - Pack of 90
Delivered in 3-5 business days
Description
Biomedics 1 Day Extra - Pack of 30 Daily Disposable Contact Lenses
Biomedics 1 Day Extra are daily contact lenses by CooperVision, designed to offer maximum all-day comfort for the eyes. They are recommended for wearers with short or long-sightedness and are also an extra convenient choice for new lens wearers in terms of cleaning and storage.
With a water content of 55%, Biomedics 1 Day Extra lenses provide great hydration to keep your eyes healthy.
These contact lenses are manufactured with thin edges and UV filters, to protect the eyes and ensure less dryness, for a superior vision quality.
Product Specifications:
Manufacturer: CooperVision
Brand: Biomedics
Type of Lens: Corrective contact lenses
Lens Material: Ocufilcon D
Technology: N/A
Water Content: 55%
Base Curve: 8.6 , 8.8 mm
Lens Diameter: 14.2 mm
Centre Thickness: N/A
Oxygen permeability: 27 Dk/t
UVA/UVB protection: No
Replacement Schedule: Daily

Biomedics® Brand of Contact Lenses is part of CooperVision, one of the world's largest manufacturers of soft contact lenses and related products and services. Since 1980, CooperVision has been providing contact lenses to people all over the globe.
Eyewa offers big savings on Biomedics 1 Day Extra - Pack of 30 Daily Disposable Contact Lenses, while providing the lowest prices available on the market. This product is placed under the following category: Contact Lenses. Eyewa provides free shipping on this product to countries including the United Arab Emirates, Saudi Arabia, and Kuwait. We accept cash on delivery and online payment methods in SAR, AED, and KWD currencies.
Our customer service team is available to help 24 hours a day, 7 days a week. Call us on +971 4 247 2979.
More Information
More Information

| | |
| --- | --- |
| Diameter | 14.2 mm |
| Base Curve | 8.6, 8.8 |
| Water Content | 55% |
| Oxygen Permeability | 27 Dk/t |
| Lens Material | Ocufilcon D |
| UV Protection | No |
| Brand | Biomedics |
| Contact Lens Replacement | Daily |
| Contact Lens Type | Corrective Contact Lenses |
| Contact Lens Use | Single Vision |