Description
Details
Shipping
Acuvue Oasys with Hydraclear Plus offers the perfect Bi-Weekly lenses for anyone looking to live their lives without the hassle of dry and irritated eyes.
Acuvue Oasys Bi-Weekly Pack of 6 contains 6 lenses, available with correction for near and farsighted prescriptions.
They are designed with Hydraclear Plus, a special technology that works as natural tears to lock-in moisture & minimizes dryness.
These cutting-edge Acuvue biweekly contact lenses include Senofilcon A, the latest form of silicone hydrogel that allows more oxygen to pass through the lens, resulting in all-day comfort and a relaxed and clear vision.
They also protect your eyes from the highest levels of UVA and UVB.
Product Specifications:
Lens Material: Senofilcon A
Technology: Hydraclear Plus technology
Water Content: 38%
Base Curve: 8.4, 8.8 mm
Lens Diameter: 14.0 mm
Centre Thickness: 0.070
Oxygen Flux: 98%
Oxygen permeability: 129 x 10-9 Dk/t
UVA/UVB protection: Yes
Replacement Schedule: Bi-weekly
*All ACUVUE® Brand Contact Lenses have UV Blocking to help provide protection against transmission of harmful UV radiation to the cornea and into the eye. UV absorbing contact lenses are NOT substitutes for protective UV absorbing eyewear such as UV absorbing goggles or sunglasses because they do not completely cover the eye and surrounding area. You should continue to use UV-absorbing eyewear as directed by your Optician.

ACUVUE® Brand of Contact Lenses is part of Johnson & Johnson Vision Care, Inc.
It was created in 1988 as the world's first soft disposable contact lenses, with an aim to enhance the standard notion of vision correction by providing high levels of UV protection and moisture content, for a comfortable and irritation-free wearing experience.

Eyewa offers big savings on Acuvue Oasys with Hydraclear Plus - Pack of 6 Bi-Weekly Lenses, while providing the lowest prices available on the market. This product is placed under the following category: Contact Lenses. Eyewa provides free shipping on this product to countries including the United Arab Emirates, Saudi Arabia, and Kuwait. We accept cash on delivery and online payment methods in AED, SAR and KWD currencies.
Our customer service team is available to help 24 hours a day, 7 days a week. Call us on +971 4 247 2979.
Acuvue
Oasys with Hydraclear Plus - Pack of 18
Delivered in 2-3 days
Free shipping on orders over SAR 250. For orders below SAR 250, delivery charge is SAR 19.
Order this product now and collect it from the location of your choice
Keep your vision healthy with regular eye exams, book your free eye exam online!
Leave Your Review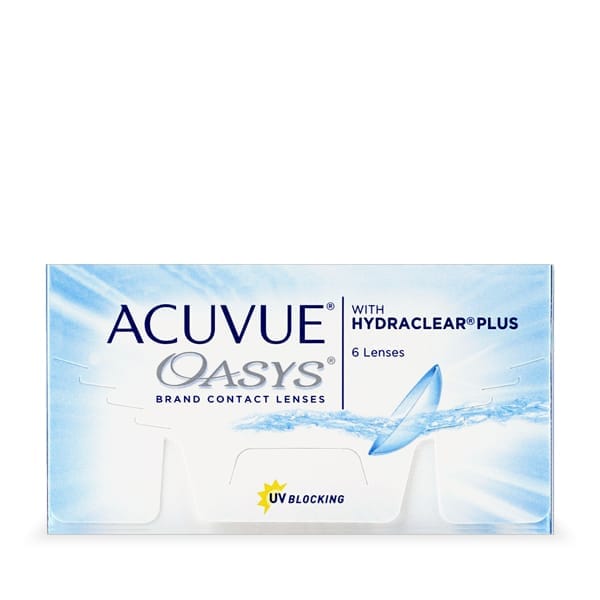 ACUVUE OASYS WITH HYDRACLEAR PLUS - PACK OF 18